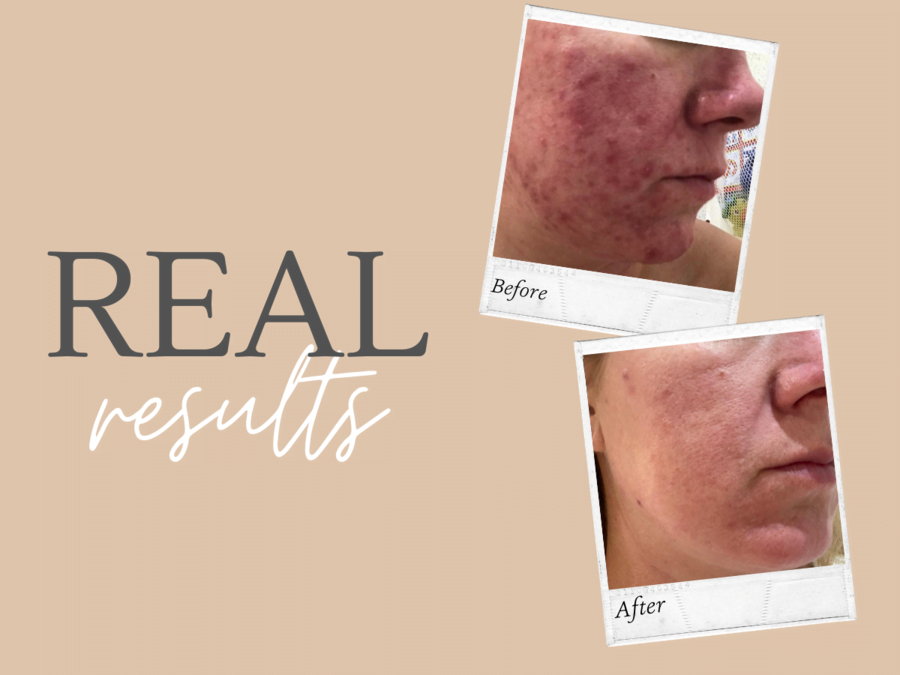 Meet Charlotte…
I've owned my multi award winning salon for 16 years. Charisma Beauty, Skincare & Aesthetics in Norwich.
I've spent my career advising & educating my clients about their skin. How to keep it in top condition, how to treat various skin problems and how to ensure that they look fabulous for their age.
I whole heartedly believe in my work. My passion for result driven skincare, makes every working day a rewarding pleasure. I know that my work can change people lives. Now I've experienced this 1st hand.
Friends would describe me as confident, having an uplifting, bubbly personality. I like to think of my self as an open and honest person. What you see is what you get with me!
Can you imagine how I felt when my own skin took a cruel turn for the worst? To keep my unhappy secret, I kept my skin hidden behind a mask of concealer & foundation.
My story begins…
Blessed with the safe arrival of my 2nd baby, another beautiful daughter joined our family. A happy time for us all.
As my hormones changed after her birth. So did my skin. I didn't get the glowing radiant skin that many new Mums report. Instead I got dry, painful, red, angry, spotty skin that I wouldn't wish upon anyone else.
My reflection in the mirror, brought me to tears
I had developed 2nd stage acne rosacea. Now my skin condition overshadowed the joy of being a new Mum.
I took these first pictures alone in the privacy of my bathroom. I didn't want anyone to see my skin. I sat and sobbed at my reflection in the mirror, it was a really low point.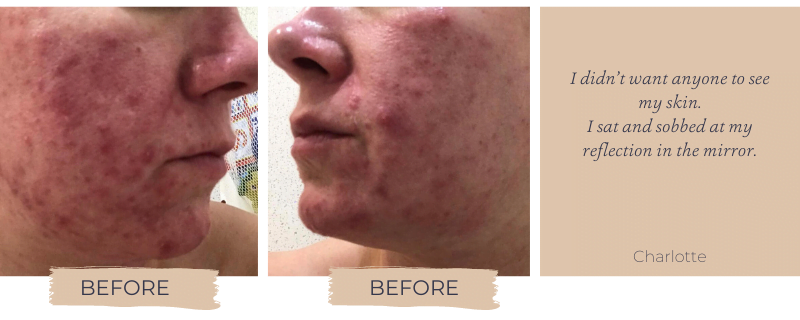 I remember thinking 'come on pull yourself together'. What would you tell your clients to do? How would you help someone else in the same situation? And thanks to my experience as a skincare professional, I knew what I must do next to do get the problem under control.
My rosacea became infected
I needed to treat the infection before I could treat my skin. My GP prescribed me a course of antibiotics. I don't always agree with using medication to treat your skin, it's often harsh and the side effects can be damaging to not just your skin but also your body & mind. In this case without getting the infection under control. I would never achieve the results I wanted.
Now it was time for me to do what I do best. But this time I was treating my own skin!
Without action my skin would have become worse and everlasting damage would be done. I would be left with scarring, uneven, damaged skin. I knew from experience that the redness would get darker, and more purple in colour if I let it get out of control.
It was time to reconsider my skincare routine. I went back to basics with Katherine Daniels products. I introduced a proper cleansing routine – a double cleanse and tone with the Essential Cleansing Milk & Essential Toning Lotion.
This is how I would cleanse a client's skin at the start of a professional treatment. It's the best way to be sure your skin is cleansed gently & properly. To moisturise I used the Age Defence Dry Skin Cream. To replace lost oils and moisture and defend my skin from the environment.
If you're short of 'me time' you'll love this
My skincare routine takes me no longer than 2 minutes in the morning and the same in the evening. Its thorough and I use products that give me results.
In a few weeks I saw a dramatic improvement. My skin started to change, it was no longer dry, the soreness was less and the redness reducing. More than this my self-confidence was coming back! I felt like I could face the world, without people staring & judging me. I started to feel like me again!
I have positioned myself as an expert in my industry. Now it was time to prove my expertise
Rosacea is caused by the lack of oxygen in your skin. Oxygen is provided by your micro circulation. Your cells need oxygen for their ability to function & be healthy.
During the onset of rosacea, cells become suffocated (by the lack of oxygen). Your micro circulation becomes restricted, resulting in an even greater lack of oxygen! It's an ever increasing effect that easily spirals out of control.
This is why rosacea should be treated at its earliest stage. You can boost oxygen levels in your skin with high doses of calcium. This allows your blood capillaries to function properly. Stagnant toxins can be flushed away by your lymphatic system.
There is a bacteria present in rosacea, this causes the pimples. Mine got out of control, which is why it became infected. With the correct salon treatment you can control this too.
How did I achieve my incredible results?
To begin I wanted to strengthen my skin and make sure that it was functioning well. I did this with a course of 4 Age Defence Treatments for Sensitive Skin. Now much less red, more comfortable and calmer. My skin was hydrated and ready to receive the next step in my skincare journey.
Photo-Dynamic Therapy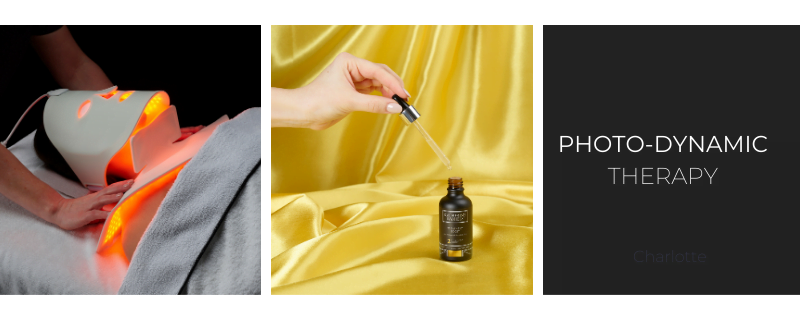 I treated my skin for Rosacea and Sensitive Skin. Photo-Dynamic Therapy allowed me to treat my skin from the inside out, thanks to the use of red and yellow LED light.
Along with this. I used the (unique Katherine Daniels) light activated skincare technology – Photo-Dynamic Concentrates. Designed to multiply the results you achieve from using light therapy.
I stimulated the production of lymphocytes, to carry away the stagnant toxins. This reduced the inflammation & congestion in my skin. The Photo-Dynamic Concentrate is rich in oxygenating calcium, as well as powerful calming and soothing ingredients.
At home I added 1 more product. I used the Photo-Dynamic Treatment Boost for Rosacea & Sensitive Skin. It's developed to support the professional treatment. More calcium, more calming and soothing ingredients were delivered to my skin twice each day.
Find out more about this amazing Katherine Daniels treatment here.
Just look at my skin now!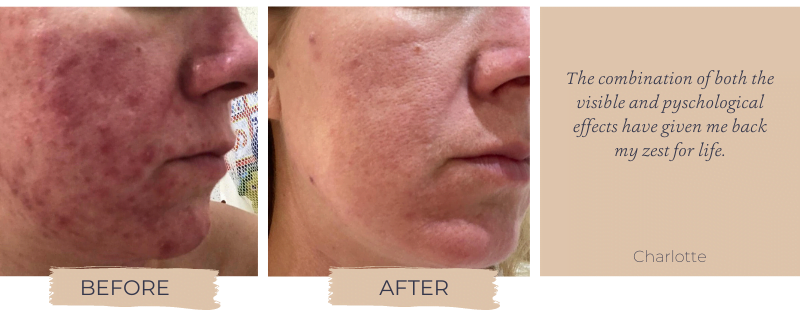 The visible results are only one aspect, the psychological effects have been huge too. The combination of both have given me back my zest for live. I feel happy. I feel pretty. I'm enjoying the challenges of being a working Mum again. But more than this I feel confident in my own skin