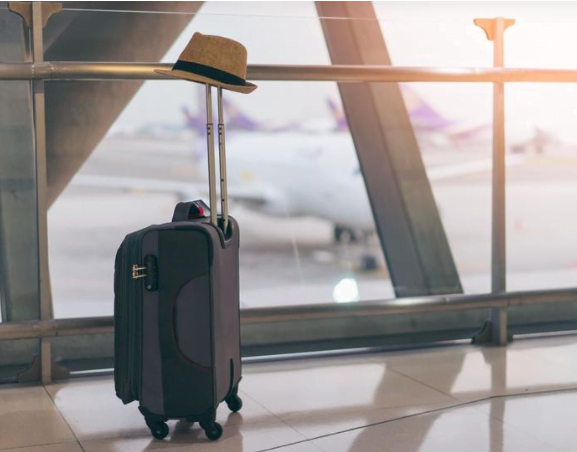 Right now, the same question keeps popping up, it's a seasonal one, so fasten your seat belts, store your tray table and find out how to look after your skin at 30,000 feet!
---
As skincare experts with over 65 years' experience, we are always asked our advice on how to look after your skin. We love to share our experience and expertise.
Right now, the same question keeps popping up, it's a seasonal one, so fasten your seat belts, store your tray table and find out how to look after your skin at 30,000 feet!
Warning – to keep your skin in top condition during your flight, you will have to create a Mile-High spa. I'll tell you more about our top KD picks a little later but first let's set the scene.
And relax… you've made it; the stress… you've packed, parked, checked in, patiently queued through the security lounge and to celebrate your brilliance had a glass of fizz in the Champagne bar. This is all pretty stressful stuff before we throw the flight into the mix (lets, not even start thinking about how this plane gets into the air and stays there!!)
When cruising at 30,000 feet, cabin pressure increases, with this the humidity in the air decreases and the air in the cabin is being recycled.
Humidity – is the amount of moisture present in the air and at a mile high its around 20%. Your skin thrives on humidity, and the more humid the environment you live in the plumper and more hydrated your skin will be. For Northern Europe we are used to environments of anywhere between 40-60% humidity.
Lack of humidity draws moisture (water) out of your skin, leading to skin dehydration. The trouble is many of our lifestyles, the environment and climate we live in causes dehydration of your skin, so throw air travel into the mix and you're going to need to give your skin some in-flight TLC.
If your skin is a combination of dry and dehydrated, it will possibly look parched and dull by the time your flight is over.
For those who have an oilier skin, you are likely to still have dehydration issues, meaning your skin is a combination of oily and dehydrated. This may cause your skin to look greasy at high altitude because the moisture and the oil within your skin and seep onto your skins surface.
Either way, it's the dehydration that we need to take care of, your body will be well armed to take care of the rest.
Puffiness – eyes, fingers, feet and ankles; this is also due in part to the low cabin pressure, along with a reduction in your circulation from inactivity, lack of muscle movement – you need to go for a little wander up and down the aisle and do some gentle exercises in your seat.
Alcohol, caffeine and high salt content in the food you eat, will also add to the general dehydration of your body and skin and may increase puffiness of your limbs, you'll retain water (in all of the wrong places!)
OK, now you know what's happening to your body and skin, now let's ensure that you arrive at your destination looking fabulous! This is how to create your own Mile High Spa.
Step 1 – Take your make-up off, clean your skin – the best option is our Essential Micellar Face & Eye Make-up Remover. Decant into a travel bottle and you can cleanse while sitting in your seat, 1 product for face and eyes. It will remove any build-up of oil on your skin too if this is a problem for you and hydrate the surface of your skin as well as calm and sooth.
Step 2 – Instant Effect Eye Mask – yes really, these are a girls (and guys) best friend, because they massively hydrate your delicate eye area and reduce puffiness and dark circles, you will arrive looking like you've had a good 8 hours sleep. The handy packaging means you can take a single pack on board and activate it when you need to, ensuring you have the freshest, most active eye masks available.
If you're already a fan, you'll know that the masks stay hydrated (and active) for around 1 hour 30 minutes. Due to the atmosphere on the plane, they will dry out more quickly. Don't be shy, no-ones looking but if you do feel a little conspicuous just pop your sunglasses on and kick back and relax.
Step 3 – Rehydrating Cream – the clues are in the name, apply in a thicker layer than you would usually, and leave it to sink into your skin, this will deliver all of the powerful hydrating and anti-ageing ingredients and give you a protective film to trap moisture within your skin – bye bye dehydration!
After 10 minutes massage in any remaining cream.
Step 4 – Multi-Tasking Eye Balm – the skin around your eyes is thinner than the skin on your face, it needs all the help you can offer. Once you've finished with your Instant Effect Eye Masks, this little powerhouse of anti-ageing ingredients will trap in moisture and work on the 5 signs of ageing around the eyes – fine lines, wrinkles, puffiness and dark circles.
Step 5 – Daily DNA Defence SPF30 – yes I did say SPF – if you're going somewhere sunny, you'll need it when you get there but you'll need it before you get there too.
You're, never going to be closer to the sun than you are on a plane? The windows are designed to block out UVB (burning rays) but they don't block out UVA (ageing rays) Apart from containing a broad spectrum protection (UVA & B) our Daily DNA Defence also protects form any pollution particles which get right into (rather) than onto your skin and blue light, which you get from your smart technology, phone, tablets etc, meaning your personal inflight movie may be ageing your skin. Apply this product over the top of your Rehydrating Cream after you have massaged it in.
5 Steps and 5 products will see you through a short haul or long-haul flight.
If it was me, on a long-haul flight, an hour before landing, I start the process again and using my Rehydrating Cream in a usual way (thin layer and massaged into my skin immediately).
You will turn heads, for all the right reasons on your way out and no-one need know your secret.
Have a wonderful holiday!
With love
Kirsti
​
AUTHOR Kirsti Shuba