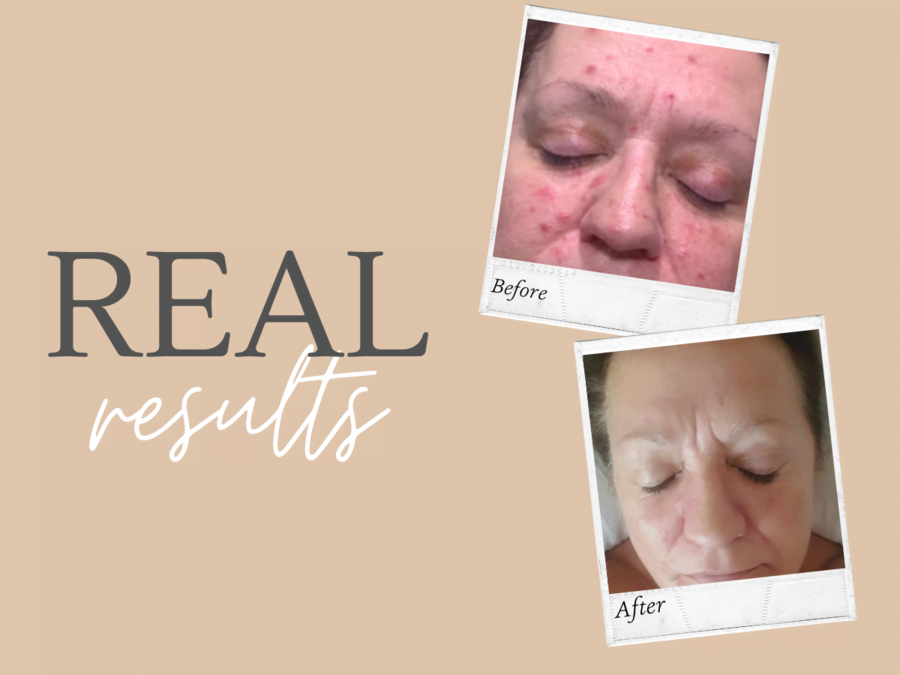 Skincare Professional Sarah Bennett, Sigma Beauty shares her client Gill's skincare journey with you.
Meet Gill..
My skin problems were triggered by stress and trauma, I was an International Networker. Nothing could hold me back, or so I thought…
Spinal cord damage left me disabled. It was at this time of trauma & stress, that my skin changed. It's said your skin is a symptom of your inner health, I believe this is true.
In 1999 I was diagnosed with Rosacea, I've lived with this for over 20 years. My skin was painful to touch, it was constantly sore and it felt like it was burning. It was awful to look at.
I wouldn't leave the house without makeup on
In fact, I wouldn't open my front door without makeup on.
My daughter told me about a new facial treatment that had been launched at the salon she uses. She thought it could help me so I I took a leap of faith and booked a consultation.
Meet Sarah…
A skincare professional for 35 years, and has owned her own salon Sigma Beauty for 14 years.
I've used Katherine Daniels in my salon for 6 years. I know I can tackle a multitude of skin issues. Constantly innovative. I'm confident that my clients will achieve their end goal.
My first meeting with Gill confirmed that yes she had Rosacea. However, it didn't follow the usual pattern formation, over her cheeks, nose & chin.
I created a bespoke treatment plan
There were many elements of Gill's Rosacea to tackle; the red sore areas, the spots, the blisters that were coming over her eyelids. As well as the general poor condition of her skin, it was dry and dehydrated.
My first treatment was to get some much needed hydration into Gill's skin. I also needed to see how her skin would respond to our products & treatments. I learned at her consultation that what ever Gill uses on her skin would burn and irritate it.
With immediate effect
Gill's first treatment was the Age Defence Sensitive Skin Treatment, the results were visible straight away. Her skin was refreshed, plumped and the flaky patches had gone. In the days after the first treatment her spots & blisters started to heal.
I had found products that didn't irritate Gill's skin. The opposite was happening, her skin responded positively to the treatment & homecare regime.
Keeping it simple at home
I put Gill on two homecare products – Miracle Cleansing Jelly & Sensitive Skin Cream.
Photo-Dynamic Therapy Treatment
The treatment that Gill's daughter spoke of and the reason Gill came to me for help was Katherine Daniels newest launch – Photo-Dynamic Therapy.
I treated Gill with the Advanced Rosacea and Sensitive Skin treatment, a combination of healing red and detoxifying yellow LED light. Combined with ingredients to oxygenate & calm her skin.
Photo-Dynamic Therapy treats your skin from the inside out. We combine it with products that work in the opposite way. And treat your skin from the outside in. It's a winning combination.
The results were outstanding. I felt quite emotional performing Gill's 3rd treatment.
This was the start of her visible skin transformation. The change in Gill's skin was matched by the change in her confidence. She was so happy!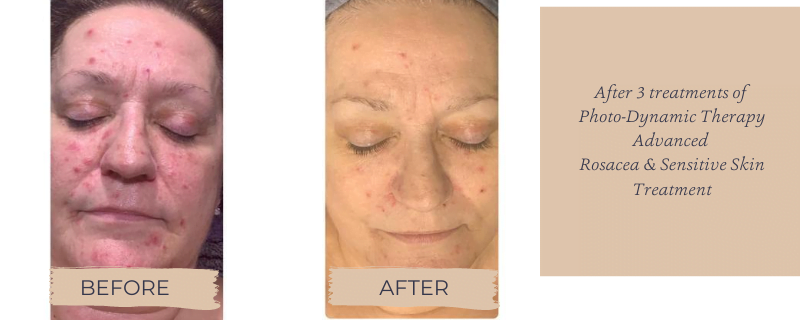 The country went into lockdown
All salons closed and all treatments stopped. To maintain the results we had achieved, it was so important that Gill carried on her treatment in a different way – at home.
Gill tells us how she did this…
"I was determined to continue the work at home myself throughout lockdown. I didn't want to feel the way I used to when I looked at my skin. It had progressed beautifully."
The stressful nature of lockdown made my skin flare up
"But it didn't go back to its worst, Sarah was on hand to 'virtually assist me'. We added some different products into my regime and we took control of the situation. We added the Essential Exfoliating Gel, Concentrate for Dry Skin & Total Skin Repair Concentrate to my regime."
Week by week everything changed
These pictures say a thousand words!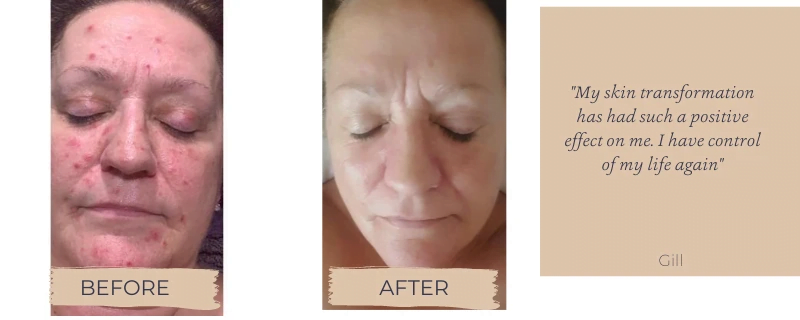 "Due to my disability and other autoimmune conditions, I was advised to shield throughout lockdown."
I used to put on a smile and pretend everything was OK
"On my first post lockdown outing (with my new skin ?) I used a light foundation, mascara and an eyebrow pencil. A far cry from the hour I used to spend applying a mask like foundation, making sure that every spot was concealed. I used to put on a smile and pretend everything was OK. Now I felt pretty! I wanted to meet people, I wanted to chat to them, I felt amazing. I said to my husband 'I'm back'."
Thanks to Sarah, I'll never look back
"My skin transformation has had such a positive effect on me. I have control of my life again. This is why I jumped at the opportunity to tell my story to you.
I'm looking forward to resuming my treatments at Sigma Beauty as soon as I can. Sarah is so gentle & caring, never pushy. She worked with me at a pace I was comfortable with."
And the final words from Sarah
"I so am pleased that Gill took the leap of faith and came to see me.
I'm used to meeting clients who have spent years guessing what is happening to their skin, and spent a fortune guessing which products to buy! As skincare professionals we are constantly up-skilling & learning to be sure that we give our clients the best results. We know skin – we can help you.
Katherine Daniels (Kirsti & Donna) you are genuinely changing lives with these treatments."
AUTHOR
Kirsti Shuba
source: https://katherinedanielscosmetics.com/blogs/blog/real-results-another-skin-transformation